Discover the Kitchen Countertop Design That Fits Your Kitchen
At Counterfitters, our goals is to assist our customers who are needing a completely new set of kitchen countertops, backsplashes, shower and bathtub surrounds, or even tabletops (whether it be in a new home, or a home remodel project).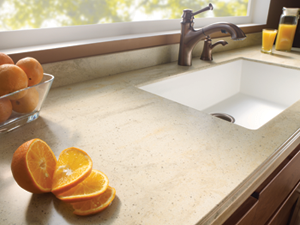 We know that everyone has their own unique style and ideas for their home, and we respect that and choose to work with our customers, instead of telling them how to do things in their own home. We are fully equipped and trained to handle even the most unique requests, and enjoy bringing in the creativity of our customers into our work.
When you are looking for a new set of kitchen countertops, we'll discuss the different options with you. There are many different hard surface materials from which to choose, and you'll hear the positive and negatives from us. We're here to answer every question you have about your new countertops and the materials that we use to install them. Whether you are looking for something as hard as quartz, want a natural stone such as granite, or want a hard, fabricated material such as DuPont Corian ®, we can provide what you need for the perfect set of countertops.
After we've decided what material to use, we will work with you on the design of the countertops. We'll figure out with you how they should be placed in your kitchen, and what design you feel fits your personal style.
Next, we'll send our team of professional installers to your home. They will install the countertops to the exact specifications of your design.
Our team is always cheerful, eager, and ready to serve you. We take pride in our work, and find our satisfaction in fulfilling the needs and desires you have for your home. Contact Counterfitters for your kitchen countertop in Ohio quote!