Whether you are building a new home and installing a brand new bathroom, or you have decided that the bathroom in your current house needs to be updated, Counterfitters can provide you with excellent designs and materials for a bathtub surround, shower surround, bathroom countertops, and other options. Our additions will set your bathroom apart while creating a beautiful and relaxing area.
Hard Surface Materials for a Shower or Bathtub Surround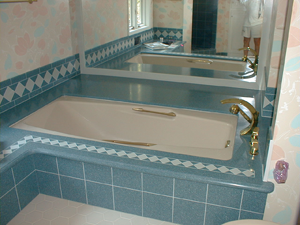 Discover our many bathroom surround materials, such as Dupont Corian ®, Dupont Zodiaq quartz ®, granite and marble. Each one of these durable hard surface materials will provide you with a bathroom surround to be envied.
Dupont Corian ® is a fabricated hard surface and comes in a variety of colors. It is a nonporous surface, making it easy to clean and maintain.
Quartz is one of the hardest surfaces in the world, and is also extremely easy to maintain and keep looking like new. Granite and marble also offer beautiful and classic looks in every capacity.
Design and Installation of a Shower Bathtub Surround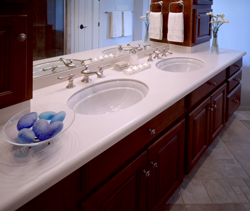 After choosing the material and colors for your new bathroom surround, Counterfitters will work with you to choose the perfect design for your bathroom. We'll help you find a design that not only fits perfectly with your bathroom, but that also fits your personal style. When we're ready to install, our experienced team of installers will put in the surround according to the specifications that we have already discussed with you. They will not disturb anything that is not imperative to the installation, and you'll hardly be able to tell that they were there after they leave (except for your shiny new bathroom surround!).
Browse through our site to see more detailed descriptions of the materials and services that Counterfitters has to offer you. Contact us for a bathroom surround quote to get started on your new bathroom!