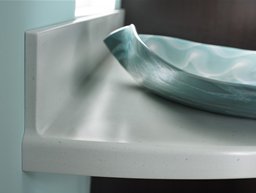 Counterfitters is a retail countertop supplier and installer of custom countertops in Ohio, and we pride ourselves on being exclusively dedicated to you, our clients. As a direct seller, we have the ability to bring you a great product at an even better value. At Counterfitters, we provide custom designs and professional installments to make each home more beautiful than before.
Professional Custom Countertops in Ohio by Counterfitters
The Counterfitters team brings 20 years of residential experience working with the finest quality solid surface and stone countertops products. Our preferred materials are the best in the industry, and include DuPont Corian ®, Staron ® Solid Surface, Hi-Macs, granite, Staron ® Quartz, and DuPont Zodiac ®.
We ensure that the best materials and the best service is provided to you. Our installation team is highly trained and does an exceptional job of putting in countertops and blacksplashes that have been custom-designed for your specific home needs.
Our professional installation team has installed hundreds of kitchen countertops, bathtub surrounds, bathroom vanities, shower walls and floor pans, sinks, custom backsplash and fireplace surrounds. We have experience with all types of situations and are able to smoothly install each custom product. Find the answers to your questions about what we do at Counterfitters in our custom countertop FAQs.
Whether the occasion is moving into a new home, or considering a kitchen or bathroom remodel, Counterfitters can help. We have in-depth experience to competently and successfully resolve the most challenging aspects of uniquely designed custom countertops.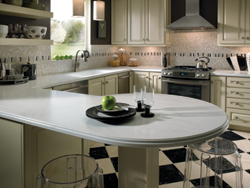 Get Custom Countertops in Ohio!
We invite you to call our Toledo, OH office for an appointment, to view samples, and to discuss our custom designs. At Counterfitters, we make homes stand out from the rest. Find out more about custom countertops in Ohio!